The succession of recent interest rate rises is starting to have an impact on the [tag]buy to let[/tag] market. The inevitable consequence of this is that some lenders are tightening their criteria for new borrowers. This means that unless a new entrant to the buy to let market can come up with a large deposit they are going to find problems balancing their rental incomes against higher loan to value mortgages.
This can make life difficult for newcomers into the Buy to Let market who want to start at the lower end of the market and build up their portfolio. That isn't to say it can't be done; there are still a few lenders giving 'good deals' but they are becoming the exception to the rule.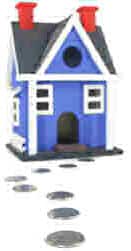 With interest rates potentially hitting 6% by December 2007 some buy to let lenders are concerned that borrowers will be struggling to cover their mortgage payments. Some lenders will accept that the rent is being subsidised by the borrower's other income but if that is not an option you will be required to show proportionally higher rental cover to get the same deal.
The Financial Services Authority (FSA) has expressed concern that the number of repossessions among Buy to Let properties is on the increase: by December 2006, 25% of these properties sold at auction had been repossessed. Many of the repossessions were new build flats which has been caused partly by excess supply leading to lower rents. One of the leading mortgage lenders has revealed figures that show a fall of 4.4% in prices of new-build apartments against a general market growth of nearly 11%.
The recent interest rate rises have exacerbated the problem, the effect on mortgage payments means that they have increased by around 20% while rent incomes have gone up by only 5%. So, something to think about when considering entering the buy to let market, it pays to be able to prove that you have some reserves in place for the occasional rainy rent day.